Cover System:
a) On Cover – Covering for someone
If you've been flagged to cover someone on your SIMS timetable, you'll want to download the cover work by clicking on this button:
This opens up a shared folder from Google Drive, where staff can drag-and-drop their cover work. There's no need to print anything out or stick instructions to a desk – everything is accessible from the Portal:
b) Arranging Cover – Arranging cover for your lesson(s)
To arrange any kind of absence, you'll want to fill in the online form here:

Once you've filled out all the details, the form will then be sent to the relevant persons for authorisation automatically. Your Line Manager, the CPD Coordinator or the Principal will then receive a tick-box to authorise your absence, at this stage. The cover person is kept in the loop at all times, with an automatically updated spreadsheet. This enables them to add your cover to SIMS, as soon as it is approved. Emails are sent to the respective persons throughout the process.
Notices / Tannoy:

Clicking the Notices/Tannoy button takes you to the notices page, where you'll see a list of all announcements for each school site. These are handy for form/registration/PAM groups.
Urgent notices will be displayed on the Portal homepage:

Notices are displayed in a list for each site:
Only the notices for today's date will be displayed, but you can of course view/search all scheduled future/old notices in the 'Edit Notices' page, where you can also make changes or delete notices: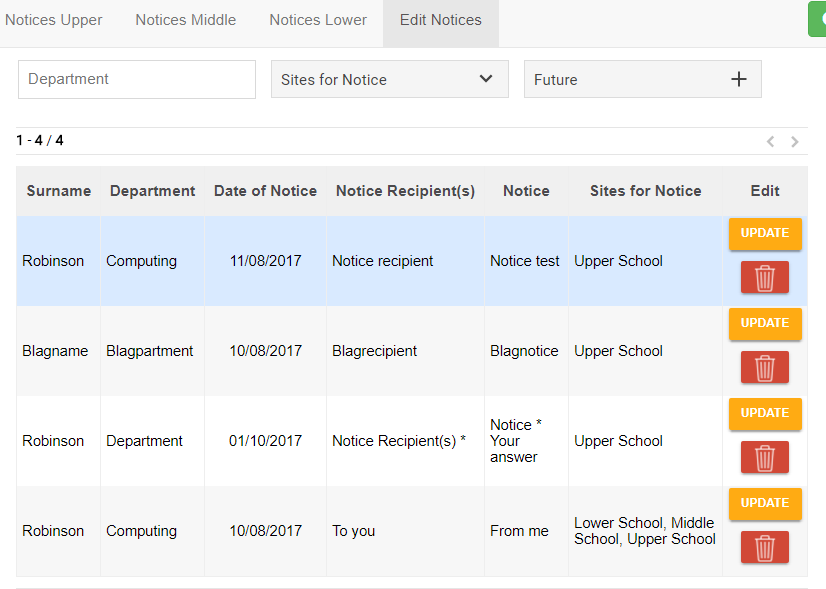 Academia:
The digital academia can be found on your personal Google Calendar, which is accessible from the main Portal page. You can also see today's agenda by clicking:

Theme of the Week:

Theme of the week is pulled in automatically from the school's calendar.
Trips:

Quick access to a list of all the trips happening this week. Again, this list is populated automatically from the school calendar.
Homework:
All class lists are exported from SIMS and imported into Google Classroom. The system will automatically assign the respective teacher(s) to each class/group. Parents can also be added.
Homework tasks and lesson resources can be shared with students in Google Classroom. Assignments can be marked and feedback can be left in the cloud based system: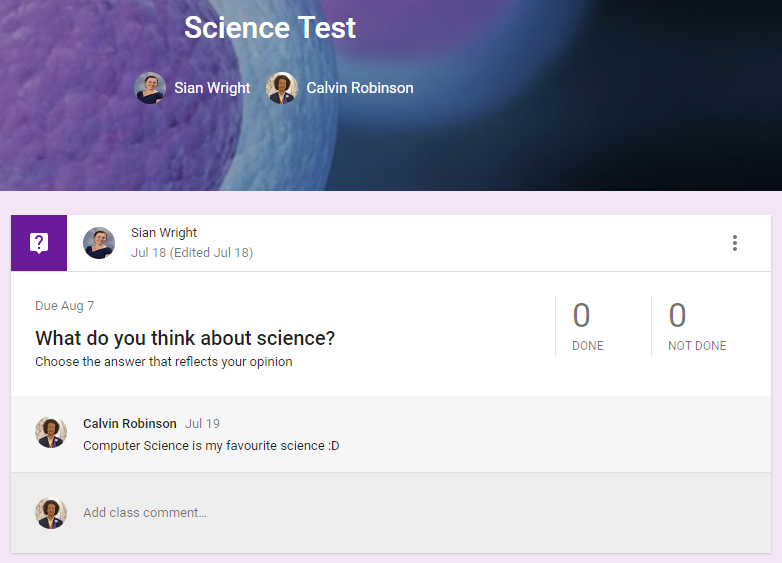 Detentions:
The centralised detention system is quite complex, but is practically fully automated. A list is exported from SIMS at around 3pm each day and imported into a spreadsheet, where it is auto sorted and populates a list on the Portal, accessed through the systems/tools menu:

This list is then displayed to every form/PAM during afternoon registration, and students are escorted to the detention hall after reg.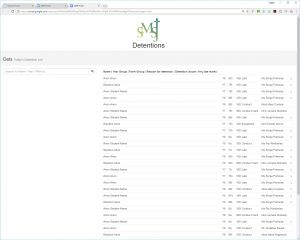 This list is searchable, and can therefore be used by HODs/Pastoral.
Resource booking:
To book a laptop or other resource, simply add it as an event on your calendar. When in the 'Edit' event screen you can book a resource by clicking 'Rooms':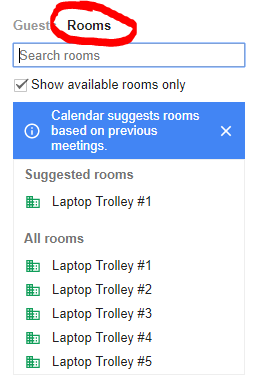 External Resources:
The portal also contains links to relevant external tools and resources. These are searchable using the Systems/Tools search menu: